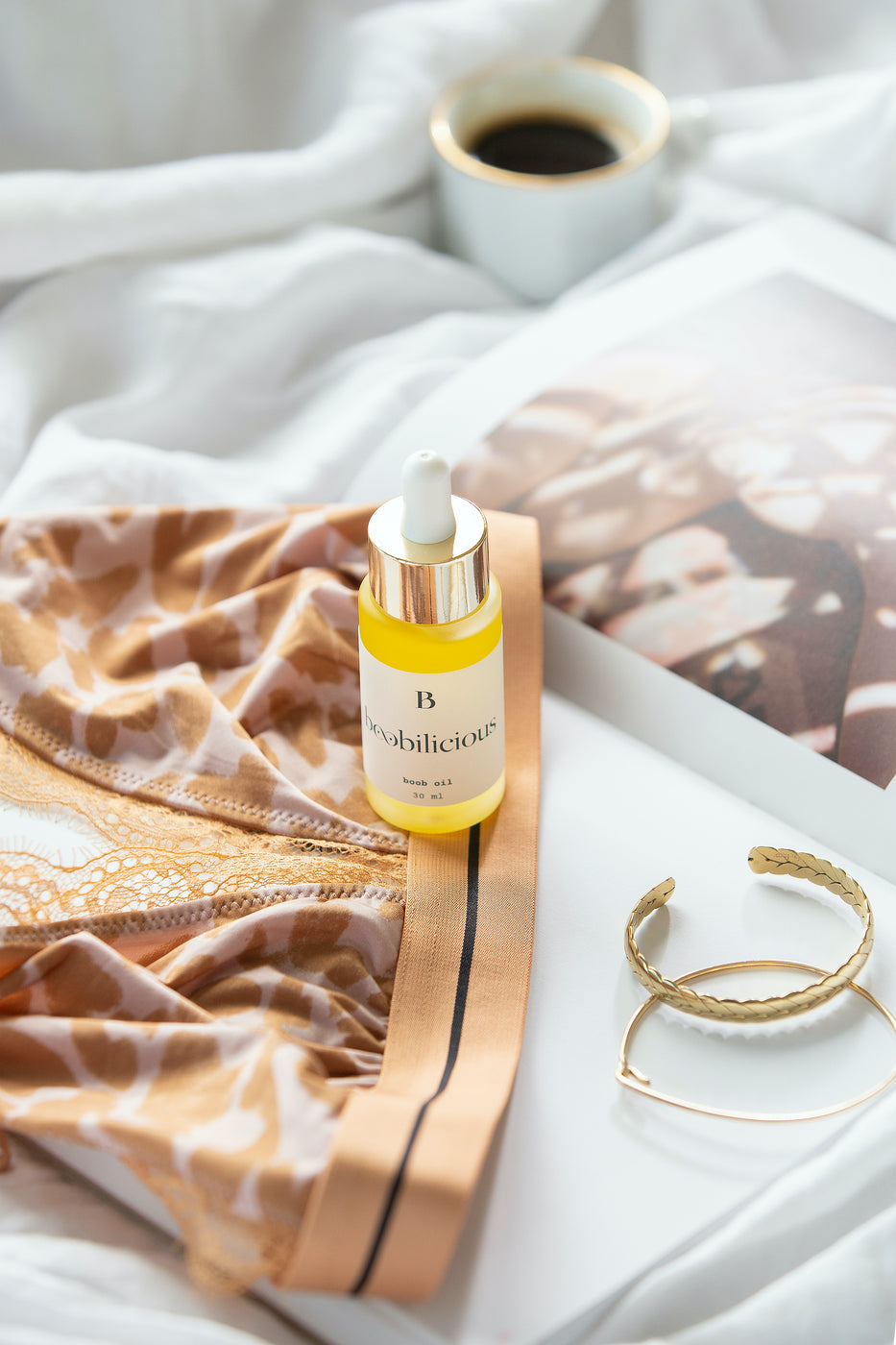 Story behind
The why behind us
Boobilicous was created out of a personal need. Founder and brain behind the nourishing oil is Felicitas. She was looking for a nice oil, specifically for boobs, but she couldn't find it.  And what do you do then? Exactly! Simply develop the oil yourself. With a background and career in the beauty and health market, she knew that women generally spend a lot of time, money and energy on using good cremes for face and body. But we hardly touch our boobs. Which is strange, because especially our breasts are a very vulnerable part of our body that needs a different approach.
The perfect oil would be a combination of beauty & health, and that's what it is. The result is an unique combination of all natural ingredients with every ingredient addressing key aspects of caring for the breast. From keeping the skin youthful, preventing aging and deeply hydrating the skin, the oil also stimulates the blood flow to keep the boobs firm. 100% natural lemon oil helps detoxify the lymphs. Ylang Ylang is added to give the product a soft, feminine and sensual scent.
However, what came out after many hours of mixing, blending, testing and talking to many other women, is actually much more than just an oil for the boobs. It's a ritual, a piece of awareness. Getting familiar with your body and taking care of your own body. 
Our body is changing all the time, cycles have a huge effect on this and there can also be other serious things going on. By using Boobilicious regularly, you unconsciously do the necessary breast check, which we generally do far too little or not at all. And when you're more familiar with your breasts you also feel when something is not right. It's something you'd rather not think about, but by taking care of your breasts with Boobilicious it becomes something pleasant.
Besides,  giving regular attention to your breasts allows you to be in better contact with yourself and your femininity. 
"With Boobilicious I want to make breast care beautiful and inspire all women to give their big, small, old or young boobs the attention they deserve!
Be Boobilicious!"