Boobilicious featured and reviewed in Elle Magazine NL
Published on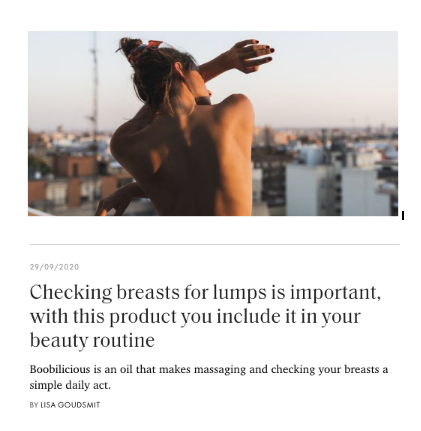 It is October and so Breast Cancer Month again . We all know that checking your breasts is important, but yes: how do you do that properly? The new Dutch brand Boobilicious makes massaging and therefore checking your breasts part of your daily beauty ritual. ELLE's Lisa tested it out for Beauty in Private Bathroom and immediately shares a personal story.
Checking your breasts is so important, I should know
'I was in the bath, just in the bath / glands a little with the soap / I suddenly feel a small lump / where I think there was nothing before ...'
Sounds like a fun Children for Children song, but with a plot twist. Last January I was taking a bath on a drizzly Thursday and suddenly felt a hard piece in my chest, which I don't think was there before. After a night of grinding ('it won't be? But it is possible. Maybe I should immediately take my breasts off, just like Angelina Jolie?) The day after, the doctor felt the lump too. She thought of a hormonal response, but sent me to the breast cancer clinic on Monday just in case. That word alone was enough for a weekend of panic for me, but she reassured me - it would be nothing. At such a clinic they first do a mammography, after which they often determine that it is a round bubble and therefore hormonal. Unfortunately, this frayed lump was not.
After a painful puncture - after which it was not yet certain - and then biopsy, after a week it turned out that the nerves were unbelievably in the nerves and endlessly analyzing all fear scenarios, that the lump was fortunately not malignant. What then is still unclear. But it is a reason to always check my breasts carefully from now on - and I recommend that you do that too. In the same way, it is wrong and you are there on time.

Combine it with breast massage and skin care
Which brings me to Boobilicious (good name anyway): this Dutch brand says it has the mission to make breast care something beautiful, thanks to a boob oil that you integrate into your daily (beauty) ritual. As Boobilicious explains, there are many advantages to such a massage. In any case, it is good to examine your breasts like this; In addition, a breast massage is also relaxing, it stimulates your blood circulation so that your breasts will eventually feel firmer and relieves pain and (hormonal) sensitivities. And you can do this yourself. Win win situation.
THE TEST: DO YOU LIKE BOOBILICIOUS?
First of all, it must be said that the design of Boobilicious is very attractive, packed in a beautiful box and provided with beautiful illustrations: a nice product to receive and give as a present. I tried the boob oil for a few weeks. Every evening I massaged a few drops of oil into my skin, using the massage technique indicated on the website . You immediately notice the scent: a combination of Ylang Ylang and lemon. According to Boobilicious, the first is said to have an aphrodisiac effect, while the lemon oil has a cleansing effect on the lymph nodes. Unfortunately, I cannot confirm both effects yet (because difficult to measure). It is true that it is really nice to take a moment for yourself and your breasts, just girls among themselves.
Price:

 not dirt cheap but not too expensive either, € 39.50 for 30 ml.

Feel:

 

very pleasant, soft and not too greasy, absorbs quickly.

Operation:

 

the almond oil with vitamin E and jojoba oil makes my skin feel softer immediately;

 

I cannot say whether my breasts will really get firmer.

Extra benefit / disadvantage:

 

Once it really gets into your regular ritual, the beauty and health benefits are bound to be even greater.

Final verdict: Really nice oil. In any case, because it smells nice and feels pleasant, but I think it is important for all women to take such a moment for yourself, also to get to know your breasts and to spot irregularities faster. This is of course possible with any kind of oil that you like.
To read the original article click here